Welcome to Shelby Switzer, the Head of Integrations at Healthify! Healthify is a startup that helps healthcare providers address their patients' social determinants of health. This has been cross-posted from Healthify's blog.

Data has been at the core of Healthify's mission since we were founded five years ago. To address the social determinants of health, we must connect patients with resources in their community. To do that, we must have a resource provider directory that is extensive, hyper-local, and accurate. After years of investing in and refining our data curation process, we are now looking to the Open Referral project to help take our database to the next level.
Our resource database has grown from covering just four regions – New York, Florida, Maryland, and the District of Columbia – to now over 30 states, and next year our database will encompass the entire US. Our data curation process has grown to meet these needs, to include a robust combination of machine learning, crowdsourcing, and manual collection and validation. We commit to keeping all records in our database fresh within 90 days.

Over the years, we've solved a number of data-related problems that we encountered as we expanded:
The way we described and structured resource data internally was irregular, largely because it was inconsistent with the data sources we used.
The meaning of our data fields and terminology was unclear to our users as a result of this inconsistency, which reduced the effectiveness of our search product.
We invested a lot of resources into developing our database because we had yet to discover data networks from trusted sources that were open, real-time, and interoperable.
Our team took these problems and assessed the industry landscape, investigating open datasets, local government APIs, and nonprofit data providers to understand how others are structuring and sharing social service providers. We found that Open Referral is leading the way, with the robust and well-developed Human Services Data Specification (a common data model for structuring community resource data), the corresponding API specification, and promising pilot projects in cities across the country that aim to build the trusted, interoperable data networks that we've been searching for.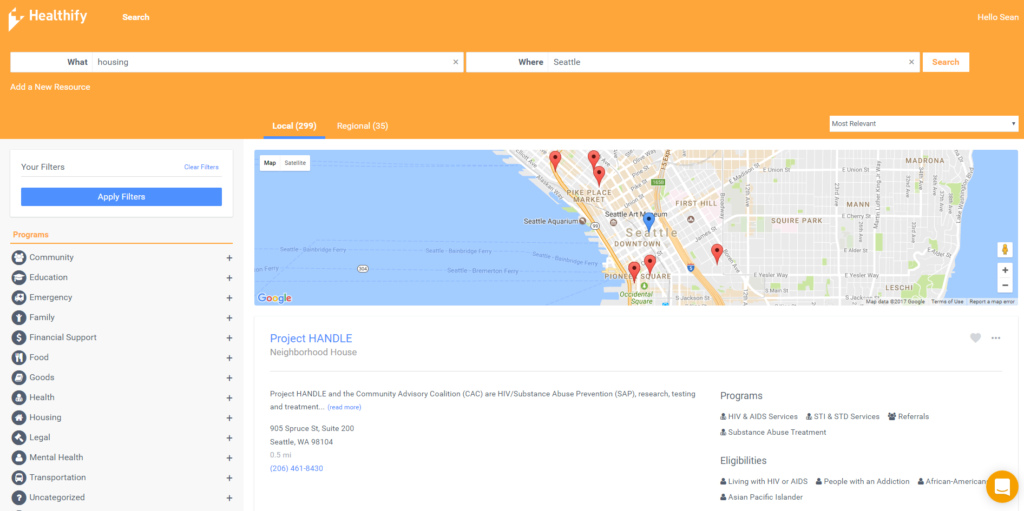 We adopted key improvements to our internal data structure based on the Human Services Data Specification. This has enabled a better, more consistent user experience and helped our users find the right community resources in a shorter amount of time. We're also participating in the development of the Open Referral API Specification, providing feedback from both an industry and technology perspective. We believe that standardizing the ways we share this data over the web and promoting API best practices are the foundation for building strong data networks that would be a benefit to us all.
Open Referral is working with multiple regions, including South Florida, Maryland, and beyond, to launch Open211 pilot projects using the Open Referral API Specification, and we're excited to get involved in these conversations. As Healthify works with more clients participating in the Accountable Health Communities program and launches care coordination networks to help close the loop in social service referrals, we increasingly see the need for these open data networks to both our stakeholders and the communities we serve.
We are looking for other 211s, community networks, and organizations who are interested in working together to implement Open Referral APIs. By standardizing the way we talk and about share this data and collaborating on open, interoperable, and trusted data networks, we can do increase our ability to advance a mission that we all share: to create a world where no one's health is hindered by their need.
Contact Healthify at [email protected] to explore opportunities to partner on impactful projects like this.