It often doesn't matter how clever or well-designed a new technology is – if it can't easily work with other technologies (and other organizations and people) then it may not accomplish much good at all.
In the last month, three significant reports have underscored this reality – one each from the US (produced by the Social Interventions Research & Evaluation Network), Canada (produced by MaRS Discovery District), and the UK (produced by Snook).
These reports compile a considerable amount of research from across the field of public informatics in general, and community resource information and referral systems in particular. Each assesses a broad swath of organizations and technologies that are trying to innovate in ways that help people in need – yet often struggling to realize their intended potential.
Taken together, this set of research and analysis makes an urgent case that governments, philanthropies, and civil society organizations should prioritize interoperability as a core value of their investment strategies, through promotion of open data standards in general – and Open Referral in particular.
Let's take a look!
Interoperability as a core value for public sector informatics
The MaRS Discovery District – an innovation hub that supports Canadian governments and startups working on complex social problems – just published a report entitled "Pathways Towards Data Interoperability for the Sustainable Development Goals in Canada." This report provides context and guidance for the Canadian government and other key actors who are committed to pursuit of the UN's Sustainable Development Goals.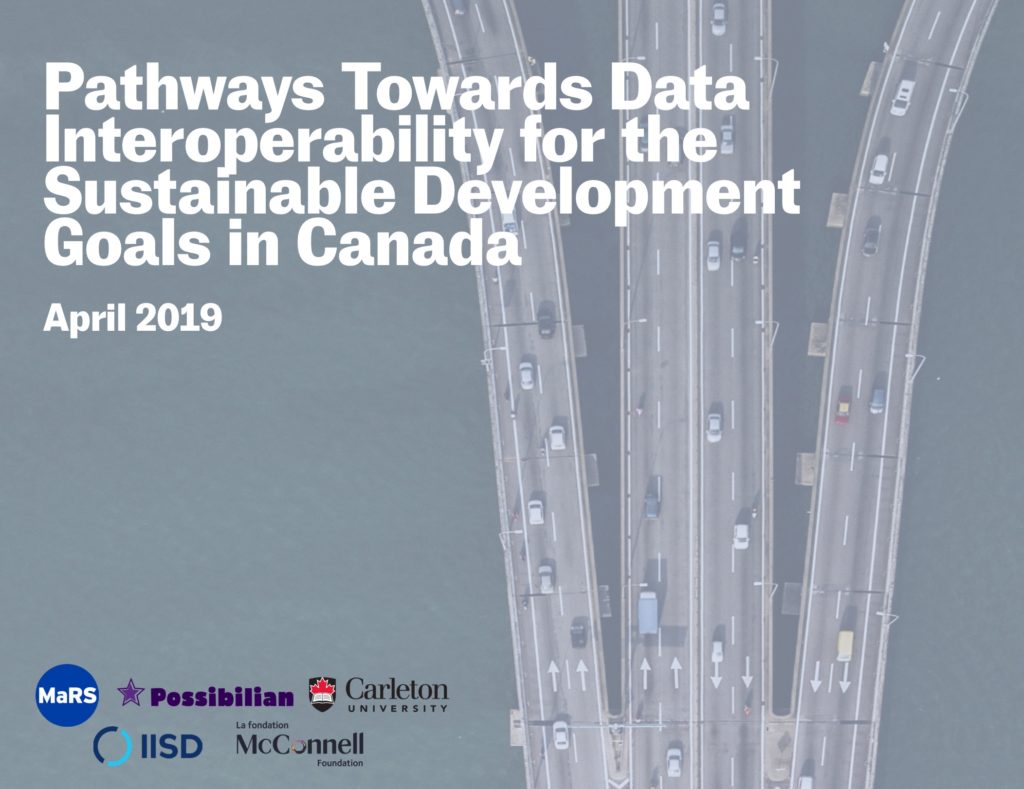 The report explores the various ways in which progress towards the SDGs are dependent upon interoperability across public and civic technologies:
When data sets from different sources can be accessed, processed, and integrated without losing meaning, data becomes interoperable, which in turn unlocks massive network effects. Interoperability could increase data sharing, data quality, and automated data processing, while reducing fragmentation of data and resource intensity of data collection, creating significant new value.
Considering the needs and obstacles that face a diversity of actors — from governments to researchers to businesses, to civil society organizations and citizens — the report observes a range of patterns in which these players' strategic objectives are hindered by a lack of interoperability across sectors and systems.
The report also recognizes that the challenge of establishing interoperability is not just technical, but rather one of coordinated investment and action in institutional processes and culture across a broad range of contexts.
The costs of non-interoperability: the US health and human service sector
In the U.S., we have an urgent example of one such interoperability challenge — specifically, with regards to information about the health, human, and social services that are available to people in need.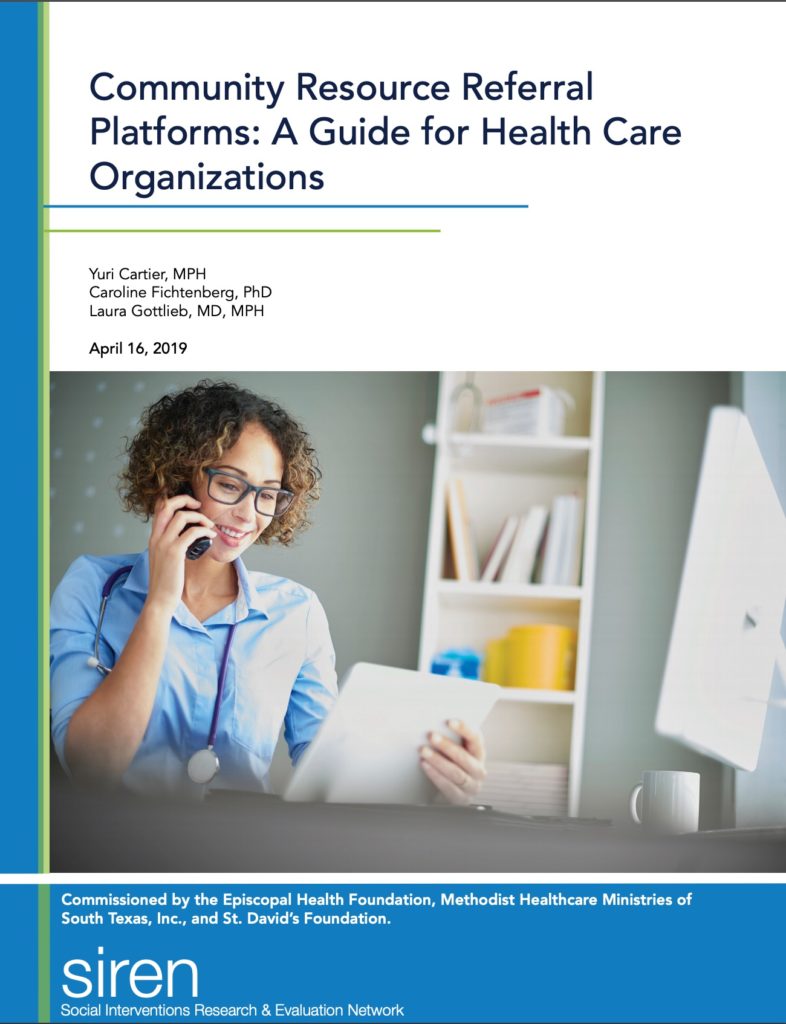 The Social Interventions Research & Evaluation Network (SIREN) recently published a report entitled "Community Resource Referral Platforms: A Guide for Health Care Organizations", with support from a range of healthcare and safety net sector funders.
This report takes a close look at the field of 'resource referral' software — a market that has experienced dramatic growth in the wake of the Accountable Care Act and associated shifts in the healthcare system. Post-ACA, healthcare systems are now incentivized to address the 'social determinants of health' — in other words, the many sources of stress and risk that affect people's health yet cannot be treated within a medical clinic. Healthcare institutions now want to ensure that patients — especially those who are struggling to make ends meet — find help that keeps them out of the clinic as much as possible.
The report profiles nine 'care coordination' products in total, and solicits insights from both developers and users about their features and functionality. These 'resource referral' software vendors primarily sell licenses to large institutions – from hospitals to Managed Care Organizations to philanthropies. There is a lot of data about them to pore through, and much of it will be very interesting to those in the field who are trying to better understand this market.
Here, I'll provide my own editorial synthesis of the report's key findings:
1) The difference between all of these software tools appears to be relatively minor. Each product has its own combination of features (for example, some tools offer public-facing websites, whereas most are private tools that require a login) yet overall there is an emergent set of core functionalities — screening, resource matching, referral, and followup — that are shared more or less across the board.
2) All of these products are struggling to maintain resource directory data – even as they compete with each other for market share over it. Information about health, human, and social services is a core ingredient for the value of these products, and the cost of its maintenance seems to be passed on to these products' primary users, either in the form of money or labor: either the vendor charges for the service of maintaining resource data, or they expect clients to do the data management themselves.
3) For this reason, among others, uptake of these tools is slow and often painful for the communities that might someday benefit from them. These products are often chosen and paid for by institutions that act out of both self-interest and an interest in serving "the community" – yet such a decision is most effective when diverse stakeholders from these communities are involved in its making. Such a political process is inherently sensitive and time-intensive, and in this case it's made even more challenging by the reality that many community organizations have neither the incentive nor the capacity to use any new system. Yet as organizations receive more requests to invest time and energy in more non-interoperable systems, their communities seem to be experiencing a tragedy of their commons: with all of this competition among tools that are supposedly intended to foster cooperation, trust paradoxically decreases and participation becomes more costly.
The SIREN report does include a section on Interoperability (page 39), which mentions Open Referral, and specifically indicates that multiple vendors from the study have adopted our protocols for resource data exchange. This section, however, is something of a sidebar — and seems to only indirectly reference the relationship between interoperability and the challenges described above. So readers of the SIREN report may benefit from also reading the MaRS' report linked above, as well as the UK's new report, described below.
Toward interoperability in the UK: a recommendation to adopt Open Referral for service directory information.
The UK's Ministry of Housing, Communities and Local Government commissioned Snook, a research and design agency, to produce the "OpenCommunity Report", which assesses the challenges faced by those who build, maintain, and use service directories – and makes recommendations for actions that can benefit this entire ecosystem.
The market for resource referral tools in the UK may not be as heated as here in the US, although Snook finds that actors still face many of the same challenges:
Every local authority, health organisation, police force and voluntary sector organisation maintain some form of directory of locally available services, with massive duplication of effort.
Echoing the Canadian report, OpenCommunity outlines a variety of ways in which a lack of interoperability in this field impedes not only service discovery and deliverability, but also the capacities for governments and civil society institutions to make effective investments that can address communities' needs.
"Siloed directories lead to siloed commissioning," the report concludes, observing that governments and civil society institutions need to be able to see the same information if they want to maximize the impact of the resources that they allocate.
Toward this end, the report has a clear set of recommendations for strategies to transform the domain of service directory information through interoperability — specifically by adopting data standards that can be used across jurisdictions, sectors, and technological boundaries:
A standard for community services data could improve the quality and availability of information about the community services ecosystem. It would allow for information to be shared easily between local councils, community services, the NHS and central government.
The Snook report evaluates a range of service directory data systems and standards, and ultimately recommends adoption and adaptation of Open Referral.
This recommendation comes along with some very technical assessments, which conclude that Open Referral "provides well structured and tested data schema and APIs." Along with this endorsement, the report also offers a set of constructive recommendations for ways in which our standards should evolve (especially to support 'localizations' that can accommodate specific geographic and institutional aspects of the UK's landscape). These recommendations can help shape our agenda for a future cycle of development, while making it easier for peers in other countries to follow similar paths of localized adoption.
This is how we cultivate a healthy information ecosystem
As new methods of service discovery and delivery proliferate – fueled by philanthropy, healthcare finance, and governmental institutions seeking to achieve more effective and efficient results from their investments – these reports highlight an increasing urgency to ensure that all of these new technologies can actually work together. That means establishing interoperability through standardization, and through building organizations' capacities to cooperate.
It's worth noting one value of interoperability that is actually not highlighted by any of these reports – yet is increasingly discussed on the world stage as a response to the problematic concentration of power by the internet behemoths. As recently noted by Cory Doctorow in the Economist, interoperability can serve as a critical tool to wield against the prospect of platform monopoly and oligopoly. Whether established by collective action or policy-making – ideally, through some combination of both – open protocols for data exchange can preserve the health of both marketplace and public space, ensuring a field will continue to welcome new entrants while preserving the agency of consumers and communities in matters pertaining to their own information.
By ensuring that there are common methods of structuring and sharing service directory data – across technologies, sectors, organizations, and even countries – we can harness the best of innovation while protecting the interests of those who are supposed to be served by it.