Conceived and built by a team at Boston Children's Hospital, HelpSteps.com (formerly known as The Online Advocate) is designed to help individuals and families identify social service needs and connect to local organizations best suited to meet those needs. The database includes over 1,700 organizations in the greater Boston area, and is maintained through partnership with the Boston Public Health Commission's Mayor's Health Line.
These tools have been part of numerous research studies and quality improvement initiatives at Boston Children's Hospital and at other academic medical centers in Boston, as well as by neighborhood coalitions, home visitation staff, community workers, health center staff, social workers, case managers and more. They are also available free of charge, with no sign-up required, to the public through the HelpSteps.com website.
HelpSteps includes an optional survey that screens families for information about their situation.
The system synthesizes their answers to build a tailored list of suggested health and human services that they may find helpful.
A service browser tool allows users to choose the services they want from a structured list. Once all desired services are chosen, Users are prompted to choose which services they're interested in, and based upon their selections, the system generates a list of nearby organizations that offer services that meet their needs.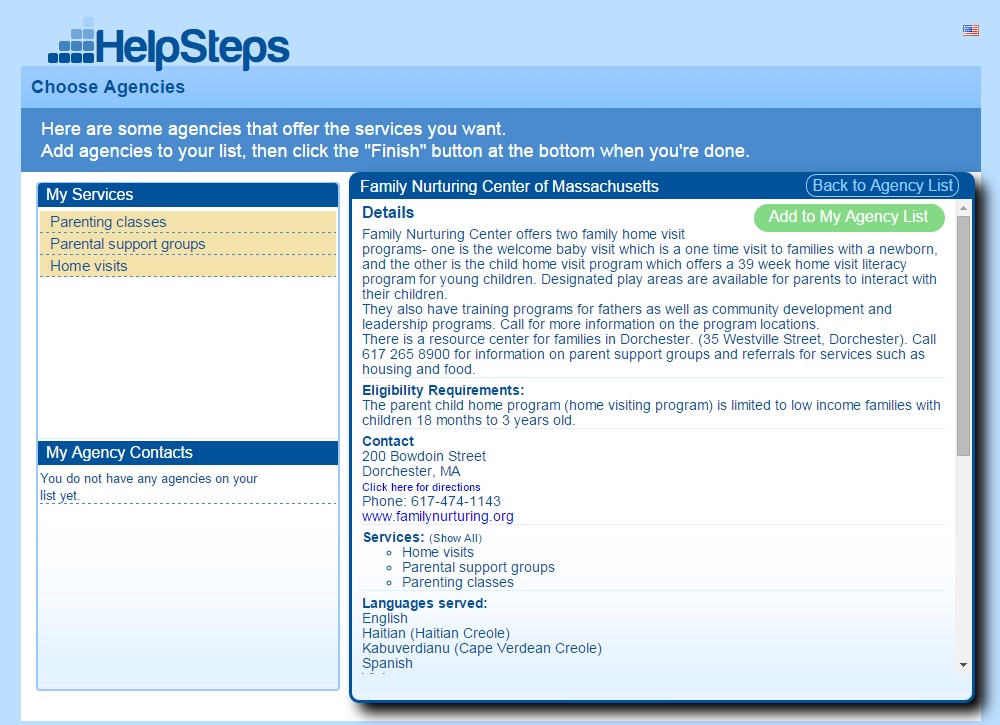 At the end of the process, users receive a contact sheet with all the information they need to connect with each organization and begin the process of receiving the desired services.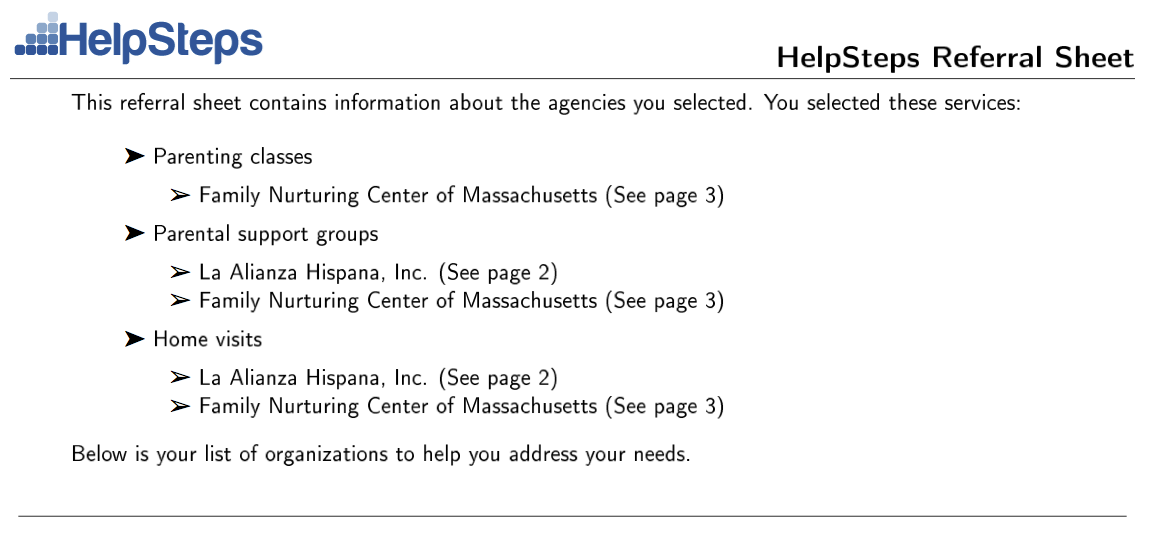 A major benefit of this approach (compared to a simple keyword search) is exposure to services about which users may not have otherwise known. The system's ability to search for multiple services and generate a ranked list of organizations also allows users to identify those organizations that are best suited to meet their specific set of needs. Enabling people to navigate this first step themselves gives them agency in the process; research on this system shows that this makes them more likely to successfully address their needs.
This approach requires structured data about services and the organizations that offer them, and HelpSteps' current structure has limited flexibility. Adding to the list of services is complicated for administrators and makes it difficult to accommodate service offerings that don't fit into our existing list of services. Also, without a fully-functional, standardized API, it has been difficult to make the data available for other users with other systems.
This summer, the HelpSteps team is adopting the Ohana API and the Open Referral format to address these limitations. Our efforts this summer will put HelpSteps in position to provide resource data and search functions for many projects in the Boston area and beyond. Future plans include a search applet that can be embedded into any website, making it easy for other organizations to use our tools, and tools to "build a binder" for a neighborhood or for specific service categories.
In this way, the Ohana API and Open Referral standard can serve as a solid foundation upon which we can dedicate more resources to improving our tools and building new features, while expanding the capabilities of Ohana and the Open Referral ecosystem along the way.